We understand the many challenges of exhibition halls during these times of uncertainty. We are keenly aware of the costs and resources needed for both our industry colleagues and IGCS in participating in this long-standing tradition of meetings.
IGCS is excited about our engagement packages that will allow for the vital conversations to occur whether it be in therapeutics and novel developments, surgical advancements in gynaecologic cancer or research and education to our global community. We are confident you will find this to be a unique opportunity to engage with delegates and gynaecologic oncology thought leaders.
Pricing includes a Conversation Hub, Gynaecologic Oncology Roundtable Discussion, and a Delegate Survey.
The package price is inclusive of all three opportunities if this is the only support provided to IGCS.
The IGCS is committed to providing meaningful conversations, and support to our industry partners through conversations with IGCS leaders, members, and delegates in attendance. We do not want to lose the opportunities for important connections to take place in the exhibition hall and IGCS is pleased to offer a unique and different approach for 2022 in NYC providing Conversation Hubs.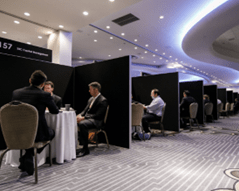 Details include:
10 x 10 SQF in size
Furniture package including:


–

1 Highboy table


–

4 chairs


–

Roll-up banner


–

Storage Cabinet


–

Brochure Rack


–

Carpet
View the online floor plan here
Roundtable discussion with IGCS leaders and delegates in attendance
This opportunity will offer dedicated time to engage with delegates in areas of importance, acquiring information and ideas from IGCS delegates. We believe this will prove to be extremely valuable in furthering your corporate strategic initiatives. Topics of discussion may include items of interest from both the commercial aspect and medical affairs perspective. Attendance will include IGCS leadership and delegates with attendance not to exceed 20 people.
Details include:
Space provided by IGCS
30-minutes in length
Agenda items and topics for discussion developed by you with input from IGCS
IGCS understands the meaningful data that can be gained from collecting information about the behaviors, needs, and opinions of gynecologic oncology professionals. Surveying IGCS delegates is an excellent way to engage them and solicit their attitudes and reactions, and measure product satisfaction.
Details include:
A 10-question survey pre-approved by IGCS
Distributed either in advance of the meeting or immediately following the meeting to all delegates in attendance (both in person and virtually)
Survey will be open for 30 days and include 1 reminder
Results will be available 2 weeks after the close