Participation Statistics & Information
The IGCS Annual Global Meeting…
… brings together the world's scientific experts to catalyze and advance in scientific knowledge about gynecologic cancer, present the most recent research findings, and enhance scientific collaborations around the world.
… gathers IGCS delegates from around the world represented by gynecologic oncologists, medical students, residents-in-training, pathologists, radiation oncologists, geneticists, scientists, advocates, survivors, and allied
health providers to enhance collaboration and address regional, national, and local responses to minimize the burden of gynecologic cancers and overcome health equity barriers.
… will reunite our delegates at the newly renovated Javits Convention Center in New York City. The Javits Center is the crown jewel of the pulsating, resurgent new West Side neighborhood, giving our delegates the opportunity to not only experience an unforgettable meeting, but also experience the vibrant New York City.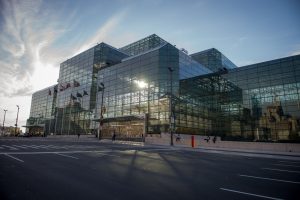 Jacob K. Javits Convention Center
429 11th Ave, New York, NY 10001, US
Tel: +1 212-216-2000
Website: https://javitscenter.com/
Industry Benefits of Supporting the IGCS Annual Global Meeting
Maximize awareness of your brand and enhance your company's image by gaining exposure to clinicians, researchers, and advocates dedicated to gynecologic cancers.
Promote your company, products, and services.
Network and build new relationships.
Interact with thought leaders, researchers, clinicians, and advocates to present, discuss, and exchange ideas and solutions related to gynecologic cancer.
Engage in meaningful conversations with IGCS leaders to discuss current trends and future topics in the industry for potential developmental and educational opportunities.
Become an integral part of the IGCS mission to improve the care of women affected by gynecologic malignancies across the globe through education and training and public awareness.
Participation Statistics and Information