IGCS 2022 Digital Speaker Ready Room
Welcome to the IGCS 2022 Annual Global Meeting speaker resources page. This page is designed to guide you through the moderator and speaker process including resources, instructions, and deadlines. Reference the section below specific to your speaker type/role within the meeting and follow the outlined steps. If you have any questions, contact igcs_abstracts@kenes.com.
POWERPOINT PRESENTATIONS GUIDELINES
ONSITE FEATURED PRINTED POSTER GUIDELINES
Prepare a printed poster if you are:
Abstract presenter selected for featured printed poster presentation

The Poster Rounds with the Professors sessions are scheduled to take place on September 29th, 30th and October 1st in 30-minute time slots between 11:00 am and 3:00 pm ET. The exact timing of the sessions can be found HERE.
Designated poster board numbers are sent to all participants selected for Featured Printed Poster presentations close to the Meeting.
Poster boards will be located in the Sponsor Conversation Area. More details will follow via email in due course and will be posted here as well.
Please prepare your poster to fit the dimensions below.
The dimensions of the poster board are LANDSCAPE.
It is recommended that posters are prepared on one sheet of material.
It is recommended that your poster be no larger than 48 in/120 cm wide x 36 in/90 cm high
Allocate the top of the poster for the title and authors as stated on the submitted abstract.
The text, illustrations, etc. should be bold enough to be read from a distance of six feet (two meters).
Double-sided tape and/or pins and technical equipment will be available for the mounting of posters. Staff will also be available to assist you onsite.
You can download a landscape poster sample from HERE. Before printing, please double-check the dimensions with your print service provider to avoid low print quality.
Please note that you are required to print and bring your own poster(s).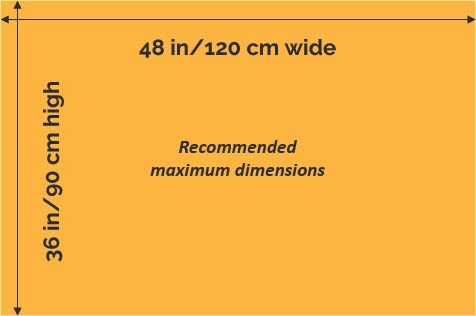 The printed posters should be mounted and removed following the below schedule:
Mounting: Wednesday, September 28th, 2022, 2:00 pm – 5:00 pm
Removal: Saturday, October 1st, 2022, 3:00 pm – 5:30 pm
Please note:
You are expected to prepare and bring your printed poster to the Meeting venue.
If you miss the official poster mounting hours, please mount your poster as soon as you arrive at the Meeting venue during the official IGCS 2022 opening hours.
If you have not removed your poster by 5:30 pm on Saturday, October 1st, 2022, the poster will be removed and discarded.
There will be a Poster Helpdesk on-site for any assistance.
PROMOTIONAL TOOLKIT
To promote your participation at IGCS 2022, please refer to our Promotional Toolkit page where you can find banners, PowerPoint templates and more.